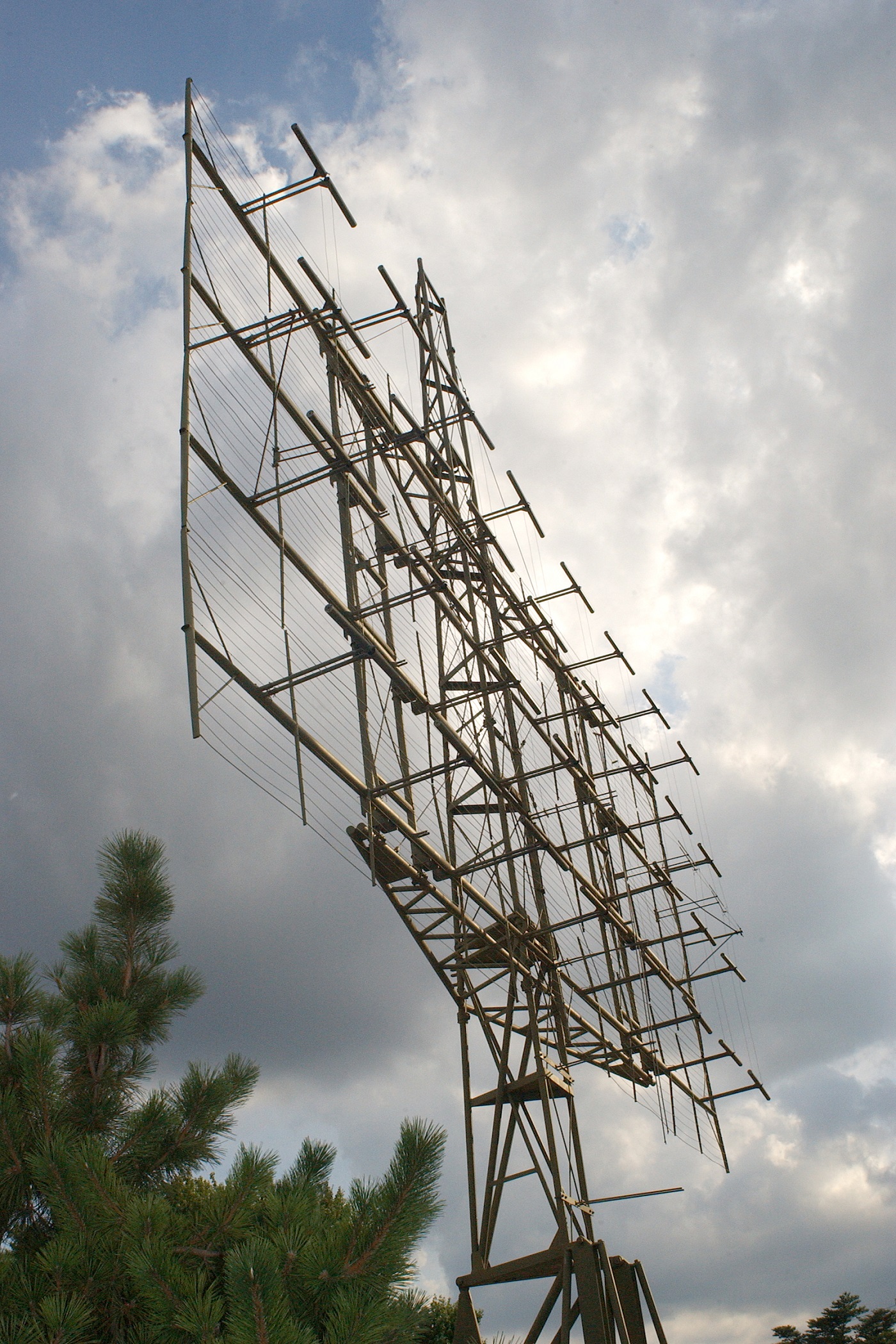 After nearly thirty years on display at the National Electronics Museum the SCR-270 radar antenna and trailer are in need of restoration to ensure they will be here for the 100th anniversary of Pearl Harbor. The National Electronics Museum is seeking $30,000 to repair structural damage, remove rust and paint, and to repaint the antenna.  A timely and thorough restoration should protect them for another 25 years.
In 1990 an ad for a used WWII radar truck appeared in a magazine for military vehicle enthusiasts.  This casual reference led to one of the most important finds in military electronics history – the discovery of the last remaining SCR-270 radar antenna.  Known as the "Pearl Harbor Radar" for its role in detecting the Japanese attack, the U.S. Army deployed SCR-270s around the world during World War II as the primary long-distance radar. National Electronics Museum (NEM) founder Robert Dwight searched from the Arctic to China for a remaining set.  The chance discovery placed two SCR-270 trailers and parts of one antenna at the University of Saskatchewan.  The Army gave these units to Canadian researchers to conduct studies including an analysis of the Aurora Borealis. When Bob Dwight arrived in Saskatchewan he found one trailer in use, with its "bedspring antenna" replaced with a newer dish. He found a second trailer and the remains of one of the original antennas nearby. A trade ensued and Bob had the parts shipped to the National Electronics Museum.  The more complete trailer was selected and the remains of the SCR-270-D antenna carefully inventoried and all of the missing dipoles, wave guides, and wiring were remanufactured from the original specs. The restored antenna was placed outside NEM in 1991, in time to commemorate the 50th anniversary of the Pearl Harbor attack. The antenna underwent lead abatement and re-painting in 2003.
In fall 2019, museum volunteers noted increased surface rust and the beginning of structural damage caused by rust around the gusset plates on the central boom. An inspection by a professional conservator indicated that while the damage was not catastrophic it would have to be addressed in the very near future. The cost for the repair and painting of the unit will be approximately $40,000.  A member of the Museum Board of Directors helped to kick off this effort with a generous donation of $10,000. We need your help to help to reach our fundraising goal to preserve this storied piece of radar history. It is not too early to plan for the 100th anniversary of Pearl Harbor.
Donate today by filling out the donation form or mailing a check to the National Electronics Museum at P.O. Box 1693, MS 4015 Baltimore, MD 21203.