Annual Events
Quarterly Workshops
The last workshop was November 3, 2018. Workshops are held four times a year.
For more information, please contact the Museum Educator: Walt Bilous nem.education@gmail.com.
Pioneer Camp
Session 1: July 17-18, 2019, 9am-1pm
Session 2: August 7-8, 2019, 9an-1pm
Electronica Music Fest, November 2, 2019
Electronica is a day of knob twisting, pitch bending, wiring mazes, sound shaping, and visual explosion with some of the area's most exciting and innovative Electronic musical performers. Admission is $10 at the door.
MAARC Winterfest, held in January
The Mid-Atlantic Antique Radio Club holds its annual RadioWinterFest swap meet at the National Electronics museum. This all-indoor meet and auction is open to all vintage electronics sellers. General admission: 9:00 AM (Vendors admitted at 8:00 AM) - Auction at Noon. There is a $7 fee for admission; $5 admission for senior citizens. NEM member are admitted for free.
Techno Swap Fest, held in February
Is your shop so cluttered you can barely work on your projects?
Did you buy something online that didn't fit into your plans?
Are you still looking for that perfect gadget, part or tool?
If you answered YES or NO to any of these questions, you need to attend the Annual Techno-Swap-Fest to buy, sell and gawk at all the precious junk that other hobbyists crave.
Robot Fest, held in April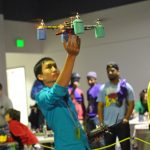 $8 for adults, $4 for middle/high school students, FREE for elementary school students & younger
Robot Fest is an annual event for anyone interested in the creative use of technology. We welcome all roboticists, hackers, artists, hobbyists and makers of any age who have the unquenchable urge to develop and create new, previously unseen forms from lifeless electronics, fabrics and mechanical parts.
Special Events
The Pace Collection: Unique and Rarely Seen NASA Apollo Mission Hardware, on view in NEM's Temporary Gallery July 10, 2019-October, 15 2019
In honor of the 50th anniversary of the Apollo 11 moon landing, the National Electronics Museum is hosting a temporary exhibit, "The Pace Collection: Unique and Rarely Seen NASA Apollo Mission Hardware". The exhibit features an eclectic mix of artifacts from a private collection. Don't forget the Museum also has on permanent display the Westinghouse Apollo XI lunar TV camera.
Due to unforeseen circumstances, this event has been cancelled. We apologize for the inconvenience. Any tickets purchased previously will be refunded.