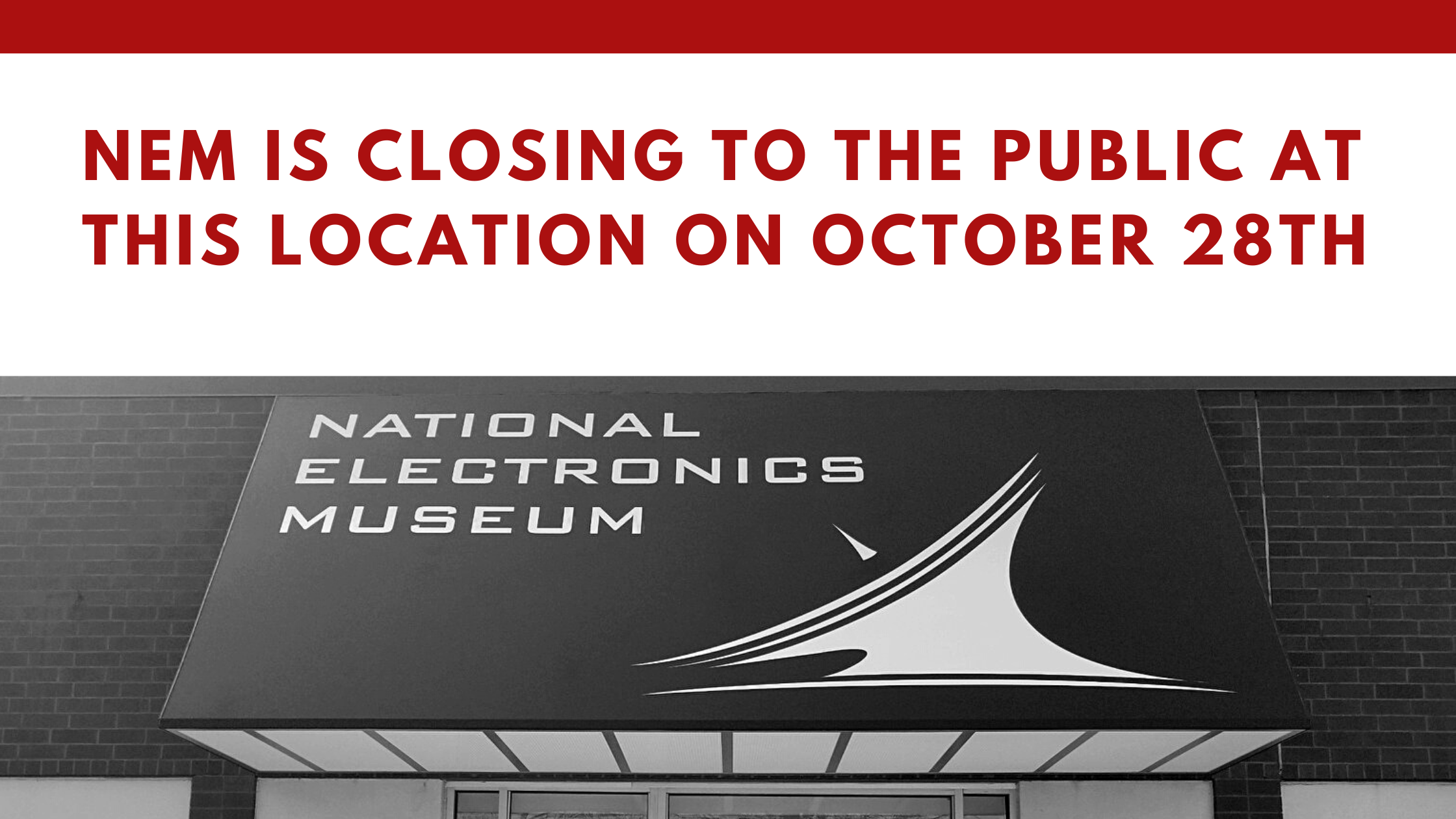 The last day the National Electronics Museum will be open for walk-ins, tours, or visitor reservations will be Friday, October 28, 2022. This closure to the public is necessary to give the museum time to prepare for moving out of our current location before March 31, 2023. For the remainder of October, we will be open for our regular open hours Thursdays and Fridays from 9am-4pm and the 3rd & 4th Saturdays of this month (October 15th & 22nd) from 10am-2pm.
The museum is required to move from our current location by March 2023 and one of our major donors made a funding decision directly impacting museum operations. For us to continue our mission at a new location, we need to raise funds not only to move but also to remain operational in the near future.
We are making progress on our transition plan and we will continue to need support to make this happen. We are in the process of talking with several different organizations on potential partnerships, possible new locations, and varied support. Stay tuned for more details as the Board of Directors are meeting frequently and we will provide an update through our website, eNewsletter, and Facebook page as soon as possible.
We are appealing to our supporters for help. Monetary donations are critical to funding our current operations and for our future survival. Any amount you donate will be used to continue the NEM mission:
To promote and encourage the study of STEM
To collect, preserve, exhibit, and make available for research various artifacts, documentation, and publications
To inspire visitors with an appreciation of the evolutionary milestones of electronics
Please contact us if you would like to help in other ways to continue this mission. You may be able to help with
Fundraising efforts
Share your contacts
Spread the news
Volunteer
The NEM vision began in 1980, to preserve and display the history of electronic engineering and to inspire the next generations of engineers. Throughout the years we added a robust education program to bring the wonder of electronics and engineering to thousands of students. Let's continue this legacy and contribute to the museum as many of you have already, through your time, energy and dollars.
Please help the National Electronics Museum to remain operational.
The survival of NEM is a team effort.
Help us by joining that team.