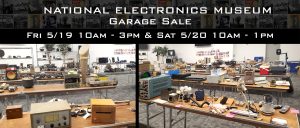 Special Events
The National Electronics Museum Garage Sale is open one more time.
Our move from our current facility is almost complete. But we still need to sell many more items to reduce our property.
We will be selling old parts, equipment, tools, museum display cases, furniture, and artifacts from our collections that no longer fit our collection requirements. Pricing varies and many are going for best-offer prices.
Friday, May 19th, 2023, 10 am to 3 pm
Saturday, May 20th, 2023, 10 am to 1 pm
(Come early - Closing time will depend on attendance; we may close earlier if it slows down.)
We will post more dates in the future once we have access to go through our off-site storage. This may be the last sale in the Linthicum, MD location - 1745 W. Nursery Rd. Linthicum, MD 21090 Stay tuned for more dates and announcements.
All items are purchased and picked up on-site. We will not be taking online holds, shipping purchases, or presenting a catalog update.
Please send inquiries via the general email nemuseum@gmail.com.
All sales will help fund our move and set-up at the new location.
Thank you for your continuing support of the National Electronics Museum as we go through this transition.
Thank you!
Annual Events
Electronica Music Fest, November 5, 2022 at the System Source Computer Museum
Electronica will be held at the System Source Computer Museum in 2022.
Performers :
planck epoch (eduardo cervantes and dave vosh)
frank vanaman
jeff brown
spooky action (rick kowalski)
charlie kramer
novparolo (bev stanton and winston psmith)
chaka benson
don slepian
kevsab (joe wall and rimas campe)
GHI (greg kist and hal schmulowitz)
beau finley
synthtech project (logan mitchell sr.)
twyndyllyngs (bill fox and howard moscovitz)
Past Annual Events
MAARC WinterFest
The Mid-Atlantic Antique Radio Club holds its annual WinterFest swap meet at the National Electronics Museum.
TechnoSwapFest
Is your shop so cluttered you can barely work on your projects?
Did you buy something online that didn't fit into your plans?
Are you still looking for that perfect gadget, part or tool?
If you answered YES or NO to any of these questions, you need to attend the Annual Techno-Swap-Fest to buy, sell and gawk at all the precious junk that other hobbyists crave.
Pioneer Camp