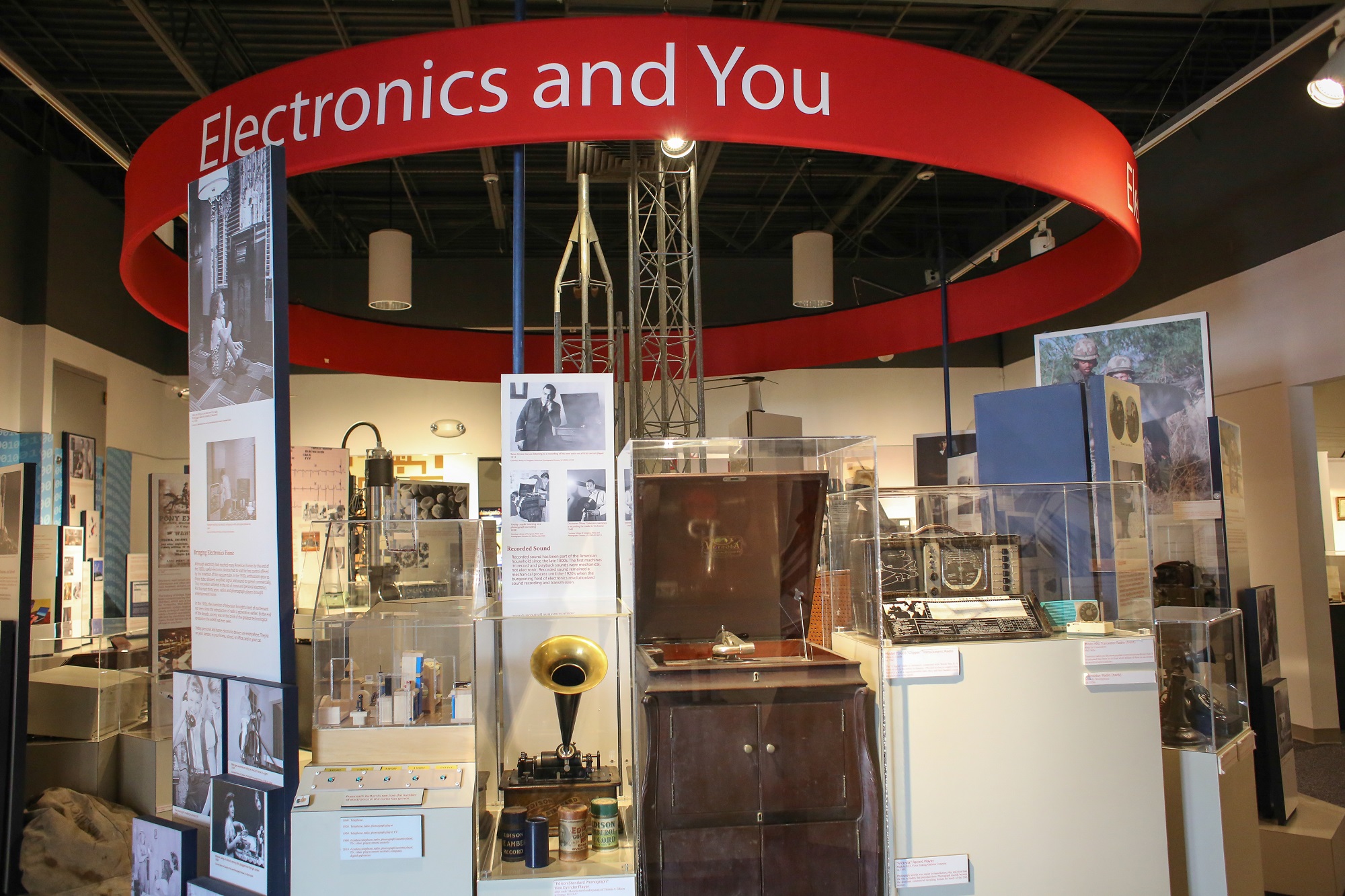 The National Electronics Museum has nine permanent exhibitions and one rotating temporary exhibit. The galleries display breakthroughs in electronic history in the areas of communications, radar, countermeasures, electro-optical, underwater and satellites.
Preview the galleries with a virtual tour!
Fundamentals Gallery
Use our hands on equipment to generate electricity and experiment with magnetism
Learn how electromagnetic waves power our cell phones, cook our food, and help us see into space
Become part of a human battery
Communications Gallery
The development of the Morse telegraph and the Bell Telephone
Marconi's pioneering wireless experiments
Reproduction of an early amateur radio spark gap "shack"
An operational amateur radio station (operated by the Amateur Radio Club of the National Electronics Museum/K3NEM) capable of worldwide communications by voice, Morse code, digital modes, and television.
The AN/PRD-1 in the Vietnam War: Early in the Vietnam War Army Security Agency forces were deployed "in country" with the AN/PRD-1 Direction Finder to find and track enemy insurgents. Learn how the use of technology in war time became a battle with the technology itself.
Early Radar/WWII Gallery
Learn how the British built a radar to detect enemy aircraft in the late 1930's
See the type of radar that detected the attack on Pearl Harbor on December 7, 1941
See the American radar-controlled anti-aircraft gun that fired shells packed with electronics to shoot down the buzz bombs launched against London in World War II
Read descriptions of Allied and German radars used in World War II
Cold War Radar Gallery
See a U.S. Navy shipborne fire-control radar
Learn how radar led to the household microwave oven
Learn how Doppler radar would be used to direct American missiles toward Soviet bombers
See how the Doppler effect was adapted to measure the speed of your car
See Air Force and Navy airborne fire-control radars
Learn how side-looking radars developed in the 1950's could map the ground in all kinds of weather
Modern Radar Gallery
A TPS-43 ground based tactical surveillance radar in an outside exhibit area.
An AWACS antenna including a mock-up of the radome
Radar tracks of incoming flights at BWI Thurgood Marshall Airport
A hands on demonstration of phased array beam steering
Countermeasures Gallery
See World War II Army Air Force and U.S. Navy jamming and receiving gear
Hear an enemy SA-2 (SAM) missile lock on to its target
Learn how chaff and decoys are used to fool enemy radar
Examine modern multi-configurable counter measure pods
Underseas Gallery
Fundamentals of underwater sound transmission
Air-dropped sonobuoys
Interactive demonstration of passive and active underwater sounds
Display of antisubmarine warfare systems and future Bow Conformal SONAR arrays
"Shadowgraph" towed vehicle for imaging mines using acoustics
Electro-optical Gallery
See the famous Norden bombsite of the WWII era
Explore the inner workings of the Pave Spike system
See yourself in infrared!
Satellites: Transforming Our Lives Gallery
See a 1:1 scale model of the Boeing 702SP Satellite
Explore the Satellite Hall of Fame on one of several touch screens in the gallery